From the ever-insightful xkcd, a cautionary tale, "Troll Slayer":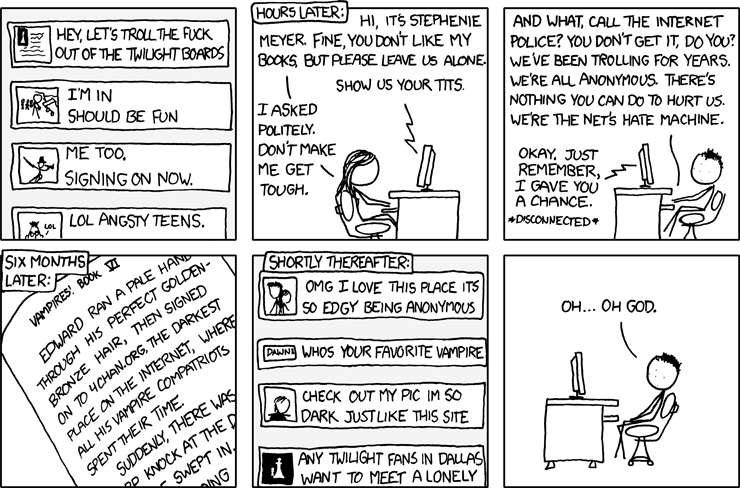 Among those who might pause, internet marketers– who might note that the "law" in question turns out to look a lot like Gresham's Law…
(Readers may remember  4chan.org from this post; but those unfamiliar with the trolls' home board can read amusing things about it– e.g., how its members elevated 4chan's founder to the top of Time's "Most Influential" list– here.)
source: Videohive
Big companies understand the importance of brands. Today, in the Age of the Individual, you have to be your own brand.
Should we have personal brands?  Should we invest in help to build them?  Much as I hate quibbling with my old friend/partner Tom, I'm not so sure…
I'm back from a period off-line to an interesting email thread from monitortalent.com that began when Chris Meyer, the Head of the Network, asked if the folks on his list would like a "Personal Brand Assistant."  Chris wrote:
… Clay Shirky tweeted that he'd been spammed by a company offering to respond to messages addressed to him on social networks "in your own voice," in order to promote his profile. I spoke to Erin McDonough about this, and she pointed me to an Ad Age story about the launch of an ad agency for media companies which, among other things, will tweet in the persona of characters on its clients' shows. The founder began tweeting as Mad Men character Peggy Olsen to promote the show.  (As soon as she did, she discovered others who had assumed the characters of other Mad Men characters–as fans, not agents–and a whole parallel Mad Men story evolving independent of the show.)

Clearly the authenticity of this medium is under attack, but its reach and importance are growing. So here is a question For The Talent Network:  if you had a Personal Brand Assistant, what would you ask him/her to do? If anything…
Lots of fascinating responses so far (see, e.g., this one).  I was intrigued that most of them are as ambivalent about, indeed ultimately negative on, the concept as I am.  There's a part of me that always wants to be responsive to a friend's provocative questions in a positive way…  and then there's a part of me that finds the notion of a PBA anathema– at least insofar as my own life is concerned…
I think the primary issue for me turns on an (admittedly mildly Scholastic, but more-than-semantic) distinction between reputation (about which I care lots) and a personal brand (which I'm not sure that I even want).  Both reputations and brands live outside of us; they exist in the communities in which we live and work. But at the level of how they are created and what they are created to do, they are importantly different.
Reputations grow over time; they are the accumulated perceptions/understandings of what one does. And while we may plan our lives in order to become who we want to become, and  order our actions in an attempt to become that person, and thus to build our reputations, those reputations are necessarily earned.  A reputation's "purpose" is to be understood (and ideally, respected).
Brands on the other hand are crafted prospectively; they are aspirational.  We do our best to grow into them, to deliver on them.   Fundamentally, brands exist to be desired; in a more or less targeted way, a brand is meant to be an attractor.
So, while reputations are vulnerable to misunderstanding, even slander, brands are much more rarified still; they are importantly co-owned with those whose attention the brand is trying to get.  Indeed,  brands are (as many of us have preached to clients) things that we may initiate, things for which we may be responsible/liable– but *not* things that we can own nor control.  We necessarily share them with the folks who engage in the brand with us…  Thus, in the end, a brand's "co-owners," its users/audience, should be– when a brand is successful, will be– critical in defining what the brand means, what it is.
There's a powerful echo here of the distinction that Lionel Trilling drew between "sincerity" and "authenticity."  In his 1970  Norton Lectures at Harvard, Trilling suggested that pre-Enlightenment moral thought valued "sincerity"– a commitment to living/acting in accordance with external, received ethical and religious principles– while more modern moral thought values "authenticity"– right action rooted in the essence of one's own being and beliefs.
Brands fundamentally attain to "sincerity" in Trilling's construction– the best of them work hard to live up to a set of principles that is at first invented, then increasingly received…  which makes perfect sense for a product or a service that ought to be all about satisfying its target market.  It may even make sense for some individuals, celebrities for instance, who are prepared to be what(ever) their audience wants.  But for "civilians"– for me, anyway– it's a step (or several) too far.
I'm plenty concerned about my reputation:  anxious to act in ways that might enhance it, and careful (I hope) to protect against moves that might damage it. .. But in any/every case, I'm trying to act in ways that are "authentic"– that are true to who I am/mean to be– in the hope that these are what will contribute to the reputation that I hope to have– the reputation for being who I am.  Which is to say that, fundamentally, my understanding of "reputation" is intensely personal, both in the sense that it is rooted in who I actually am, and in the sense that it's something that, through my actions (for better and for worse; with no co-pilots, no co-owners), I drive.
(Promotion– exposing one's reputation to a wider audience– certainly has a role in communicating reputation.  But without belaboring the distinction here, I'd suggest that this kind of promotion is distinct from brand messaging/advertising in a way analogous to the distinction between reputation and brand.)
The irony is that brands are stronger when they are not just sincere, but also authentic.  The great branding practitioners that I know understand that brands are more powerful to the extent that the aspirational brand and the actual reputation are aligned… but then my friends have steady work because brands (and the companies that steward them) almost always stray.   In some cases this is because a sense of opportunity or of need leads the company, "the branded," to act in ways that are untrue to the brand; in others, because the "co-owners" pull a brand in a way that the company can't (or won't) move.  The most benign form of drift occurs when they push their brands in aspirational ways, and then have to live up to them; the least, when companies undermine the very characteristics for which their customers– their co-owners– have come to know the brand….
Fighting that drift is among the most (if not indeed the most) important things a branded business can do.  But it's not, it seems to me, a battle that an individual need (nor indeed, with few exceptions, should) even try to fight.
It may be (Heaven forfend) that I'm just old-fashioned; but better, at least for me, to worry about who I want to be and what I need to do to achieve that… then, in the words of a brilliant branding company, Just Do It!