Let's end on an upbeat note, so start with…
The bad news…
source: Hadley Centre for Climate Change (via Global Warming Art)
A recent MIT study suggests that the problems associated with global warming will be about twice as severe as previously estimated six years ago – and could be even worse than that.
The work is based on MIT's Integrated Global Systems Model, a detailed computer simulation of global economic activity and climate processes that has been developed and refined by the Joint Program on the Science and Policy of Global Change at the university since the early 1990s.  And its results add to the chorus of researchers suggesting that earlier estimates– like the assessment of the UN IPCC (Intergovernmental Panel on Climate Change)– materially understate the threat.
(As Larry Smarr of Cal IT2 explained to me recently, a good bit of the difference was likely methodological: the scientists involved in that earlier work, concerned to be rigorous, excluded from consideration forces/dynamics that couldn't be measured and projected as precisely as the forces/dynamics that were included– even if those "rejected" forces/dynamics were suspected, even known, to have an impact.  In the intervening time, measurement capability has improved…  and thus, the picture has deteriorated.)
The new projections, published this month in the American Meteorological Society's Journal of Climate, indicate a median probability of surface warming of 5.2 degrees Celsius by 2100, with a 90% probability range of 3.5 to 7.4 degrees. This can be compared to a median projected increase in the 2003 study of just 2.4 degrees…  To put that in perspective, consider this piece (from the Times of London), reporting on models built by the UK Government's Hadley Centre for Climate Change:
Six thousand years ago, when the world was one degree warmer than it is now, the American agricultural heartland around Nebraska was desert. It suffered a short reprise during the dust- bowl years of the 1930s, when the topsoil blew away and hundreds of thousands of refugees trailed through the dust to an uncertain welcome further west. The effect of one-degree warming, therefore, requires no great feat of imagination.

The western United States once again could suffer perennial droughts, far worse than the 1930s. Deserts will reappear particularly in Nebraska, but also in eastern Montana, Wyoming and Arizona, northern Texas and Oklahoma. As dust and sandstorms turn day into night across thousands of miles of former prairie, farmsteads, roads and even entire towns will be engulfed by sand.

What's bad for America will be worse for poorer countries closer to the equator. The Hadley Centre calculates that a one-degree increase would eliminate fresh water from a third of the world's land surface by 2100…
But of course, MIT is worried that the increase will be much higher than just 1 degree.  What do those extra increments of heat portend?  Nothing good.  Further from the Hadley Centre report:
Here is a degree-by-degree guide:

1c Increase- Ice-free sea absorbs ?more heat and accelerates global warming; fresh water lost from a third of the world's surface; low-lying coastlines flooded

2c Increase- Europeans dying of heatstroke; forests ravaged by fire; stressed plants beginning to emit carbon rather than absorbing it; a third of all species face extinction

3c Increase- Carbon release from vegetation and soils; speeds global warming; death of the Amazon rainforest; super-hurricanes hit coastal cities; starvation in Africa

4c Increase- Runaway thaw of permafrost makes global warming unstoppable; much of Britain made uninhabitable by severe flooding; Mediterranean region abandoned

5c Increase- Methane from ocean floor accelerates global warming; ice gone from both poles; humans migrate in search of food and try vainly to live like animals off the land

6c Increase- Life on Earth ends with apocalyptic storms, flash floods, hydrogen sulphide gas and methane fireballs racing across the globe with the power of atomic bombs; only fungi survive

Chance of avoiding six degrees of global warming: zero if the rise passes five degrees, by which time all feedbacks will be running out of control
Now these are projections, the products of models; the reality will be surely be different.  But if there's anything to the MIT study and the Hadley projection of consequences– anything at all– then we've got lots of work to do in reducing emissions– and fast.
UPDATE:  a link to the recent report of the U.S. Government's U.S. Global Change Research Program: more evidence (as if we needed it) that this threat is real, and another take– slightly less dramatic; still deeply troubling– on its potential impacts.
The good news…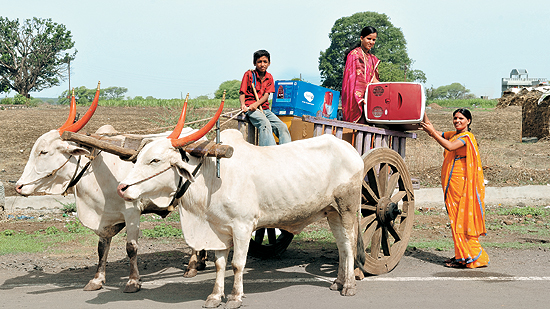 Selling nano refrigerators in Osmanabad
One of the obstacles to executing an effective global strategy to combat global warming– and of course it does have to be a global strategy– is that, while it's painful for developed nations to make the necessary adjustments, it's even harder for developing nations. Their emerging middle classes aspire to the same sorts of luxuries that their predecessors in the West have enjoyed.  Suggesting to, say, a hardworking Chinese family that it should not get a car after all, or to an Indian family that it should forgo the refrigeration for which it has saved, is a tough sale– one that smacks of entitled Westerners pulling the ladder up behind themselves.
The climate data sketched above suggests that the resolution to this dilemma can't be simple comprise– a chicken in every other pot, as it were– that only yields an outcome slightly less catastrophic.  Rather, the answer has to come from a leap, a transcending of the old trade-offs.  Innovation must be yoked to the creation of new kinds of products and services, delivered in new kinds of ways– products, services, and systems that radically reduce the amount of carbon consumed;  products, services, and systems that are genuinely sustainable.
Happily, that innovation is underway.  And it's happening as quickly and impactfully in the developing world as in the West.
By way of encouraging example, Outlook Business (India) reports on a new "nano-fridge," the ChotuKool:
ChotuKool is like no other fridge. It does not have a compressor. It runs on a battery. Utensils and bottles need to be loaded into this 43-litre cool box from the top. It weighs only 7.8 kg and costs only Rs 3,200 [under $70].
The ChotuKool was co-designed with village women to assure its acceptability, and is distributed by members of a micro-finance group.  It's a triumph of applying creative economic development thinking to the satisfaction of emergent consumer demand– in this case, demand for a product, a refrigerator, that is an avatar of emergence into the middle class.
And critically importantly, it is a step toward sustainability.  In order to make the fridges viable for rural distribution and use, the manufacturer (consumer durables firm Godrej & Boyce) shrank the standard size– reducing materials use– and replaced the usual compressor with a battery-powered heat exchanger. The upshot of which is a fridge that is less carbon (and other resource) intensive– and at the same time, cheaper– than usual.
And this is the good news:  necessity being the mother that it is, innovators all over the world– but critically importantly, in developing economies– are coming up with answers to consumer demand that redefine products as we've known them, making them cheaper and more sustainable at the same time.
C. K. Prahalad argued in Bottom of the Pyramid (c.f., e.g., here), that serving the poorest of the world can and should be good for business:  it's a gargantuan market in its own right, and what's learned there can be applied in the developed world. Examples like the nano-fridge suggest that connecting the ingenuity and the enormous potential there can be critically important to managing global climate change as well.  Prahad once said,
I am continually humbled by the inventiveness of the people who want to serve this population.
I too am humbled– and with an eye to the encroaching waterline of San Francisco Bay, I'm very, very grateful.